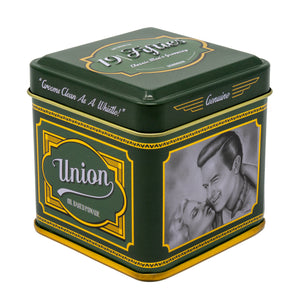 Union Oil Based Pomade
Sale price Price $28.95 Regular price
The 1950s, All jammed into one tin! 
Union Oil Based Pomade is Slick N' Shiny! This is the kind of stuff Elvis, Johnny Cash, and Chuck Berry used. With a traditional green apple scent, this pomade is authentically an old school one for even the true pomade connoisseur can respect.
This waxy, yet pliable hold pomade is perfect for pompadours, side-part comb-overs, jelly rolls, and slick backs. Infused with essential oils, to nourish your hair! Best of all, Its an oil based pomade that finally washes out easily! 
            – Alcohol Free
            – Paraben & Sulfate Free
            – Fragrance: Green Apple 
            – Texture:  Smooth Wax
            – Content/worth: 4oz/118ml